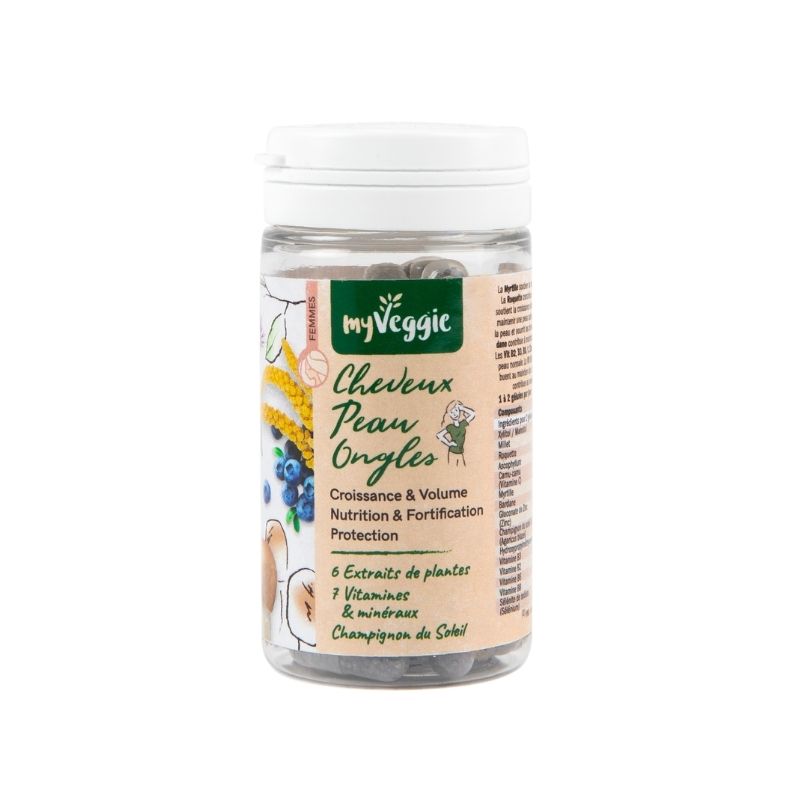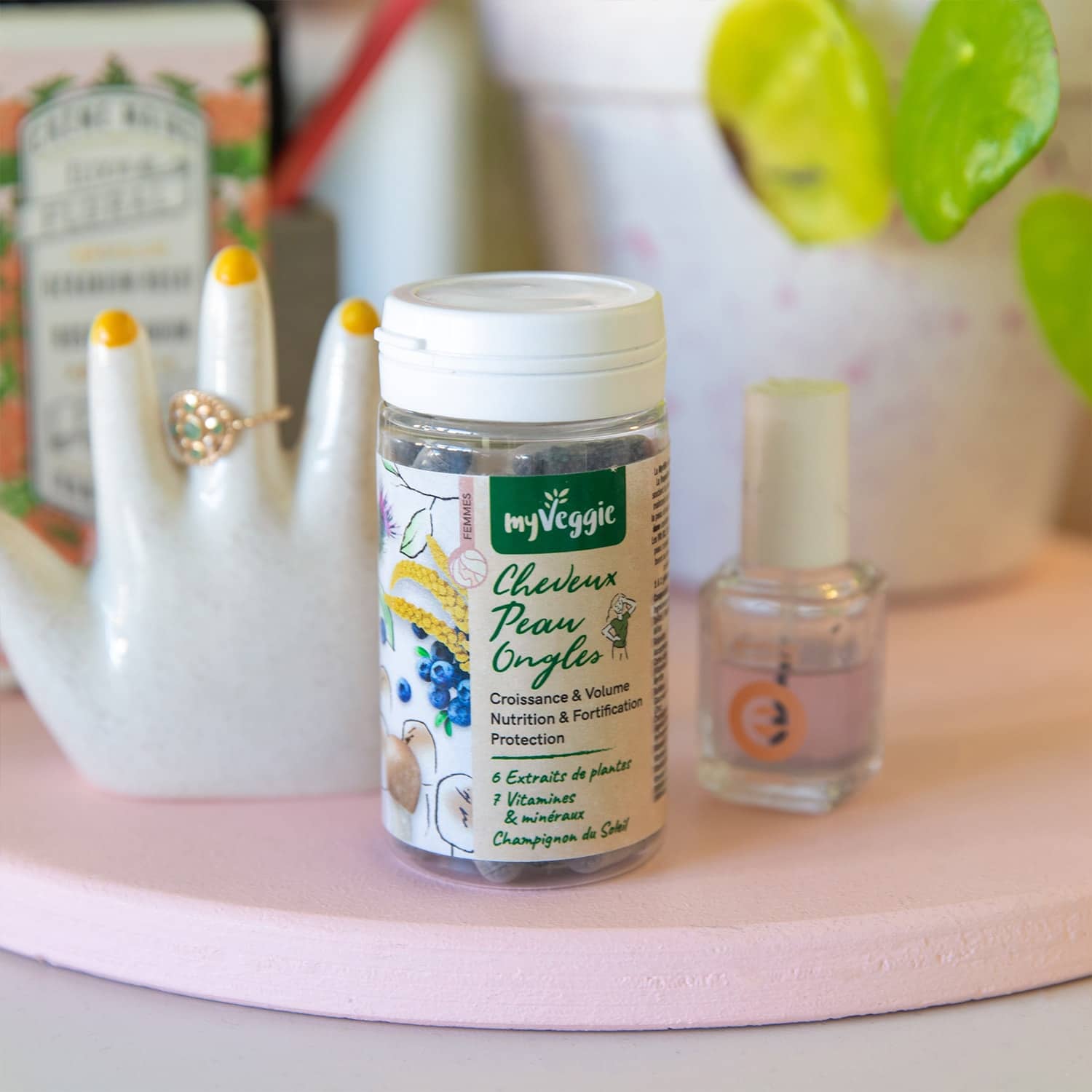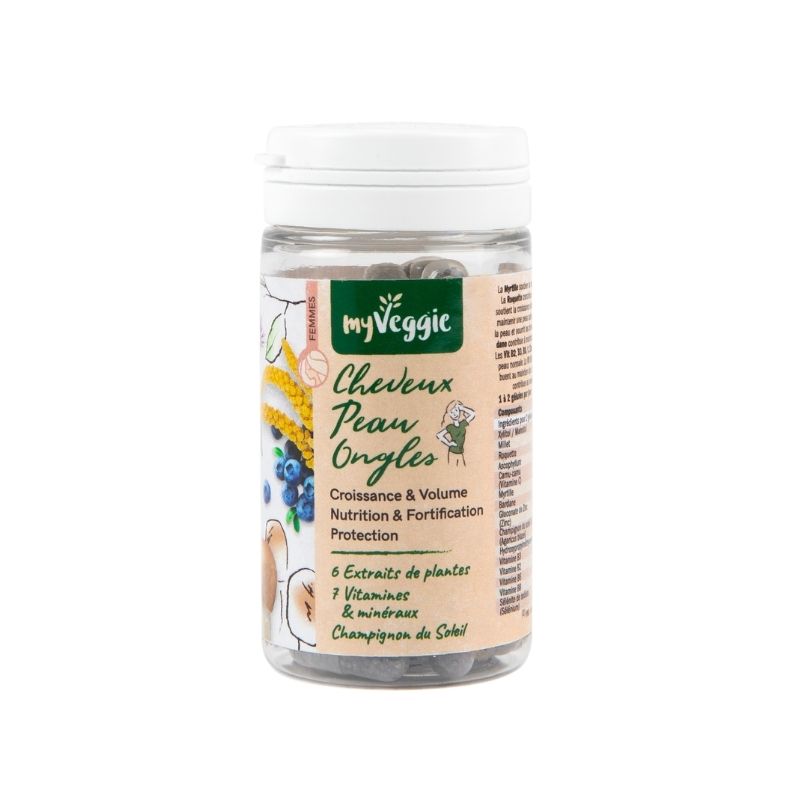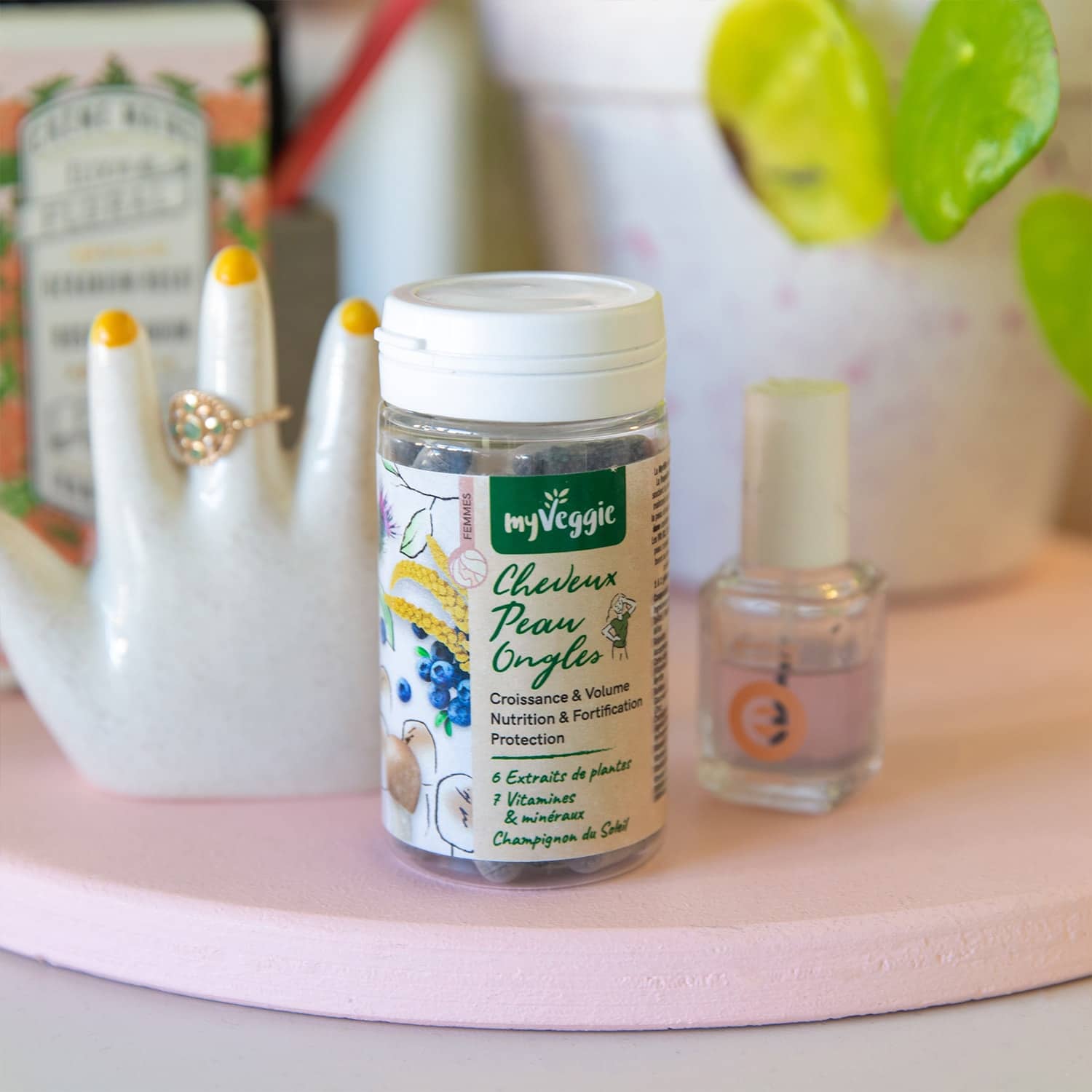 myVeggie Hair Skin Nails
Food supplement for hair, skin and nails
Beauté des Cheveux de la Peau et des Ongles
Content: 60 capsules / 2 capsules per day
to know
Stimulates hair and nail growth and reduces hair loss
Strengthens hair and nails
Deeply revitalizes hair and nails
Maintains good skin health
24,90€ - – 59,76€
Also available in :
Our nails, hair and skin are a reflection of our health and "suffer" from our lifestyles.
Seasonal changes, stress, fatigue, pollution, pregnancy, dietary imbalances, menopause, age, are some of the causes that can alter the quality of hair, skin and nails.
A good nutritional balance favours tissue regeneration and good growth of the hair and nail fibre.
Like nails, hair is made up of keratin which needs to be nourished to play its role in growth.
In addition to applying your creams and treatments, it can be interesting to provide nutrients that will improve the balance from within so that your hair, skin and nails regain strength, vigour and shine.
So for all those who want to stimulate their growth and make them more beautiful, the myVeggie Hair, Skin and Nails food supplement is composed of a synergy of active ingredients:
Carefully selected for healthy hair, skin and nails.
The synergy of plants, vitamins and minerals acts in an optimal way on the health and beauty of your hair, skin and nails.
We use titrated plant extracts and not crushed plant powder, which provides a high concentration of active ingredients and increases the effectiveness of the food supplements. The extraction of active ingredients is 100% natural and clean.
| Composition | Dosage | VNR |
| --- | --- | --- |
| Millet | 200mg | |
| Rocket | 120 mg | |
| Ascophyllum | 120 mg | |
| Camu-camu of which Vitamin C | 60 mg 30 mg | 37.5% of NRVs |
| Blueberry | 40 mg | |
| Burdock | 40 mg | |
| Zinc (gluconate) | 22 mg / (Zinc): 3 mg | 30% of NRVs |
| Organic sun mushroom (agaricus blazei) | 20 mg | |
| Vitamin B3 | 16 mg | 100% of NRVs |
| Vitamin B2 | 1.4 mg | 100% of NRVs |
| Vitamin B6 | 1.4 mg | 100% of NRVs |
| Vitamin B8 | 50 ug | 100% of NRVs |
| Sodium selenite | 36 ug / (Selenium): 16.5 ug | 30% of NRVs |
Xylitol / Mannitol Hydroxypropylmethylcellulose (birch) Composition for 2 capsules NRV: Nutrient Reference Value
Find the full list of assets here
2 capsules per day for 1 month, then 1 capsule for 2 months
Duration of treatment: 3 months, to be repeated if necessary after a 1-month breakA food supplement should not replace a balanced and varied diet and a healthy lifestyle.
Do not exceed the recommended daily dose. Keep out of reach of children. Too much Xylitol and Mannitol may have a laxative effect.

Made in France

Organic Agriculture® label

Eve Vegan® Label

Available in pharmacies
Its action
The Blueberry
Supports the microcirculation of the scalp
La Roquette
Contributes to the health of the hair bulb and supports hair growth
Ascophylum
Helps maintain healthy skin, moisture and firmness of the skin and nourishes the hair, strengthens the nails
Burdock
Helps to maintain good skin health
Vitamins B2, B3, B8, C, and Zinc
Helps maintain normal skin
Vitamin B8, Selenium and Zinc
Helps maintain normal hair
Selenium
Helps maintain normal nails
Customer reviews
Only connected customers who have purchased this product can leave a review.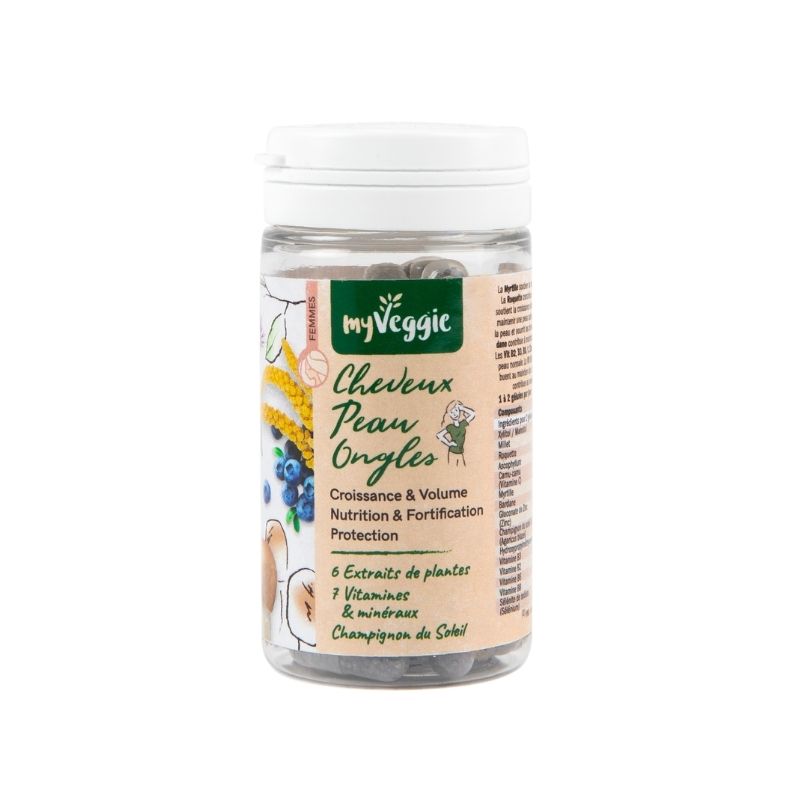 myVeggie Cheveux Peau Ongles
Beauté des Cheveux de la Peau et des Ongles